Bill to Ban Hare Coursing introduced in the Dáil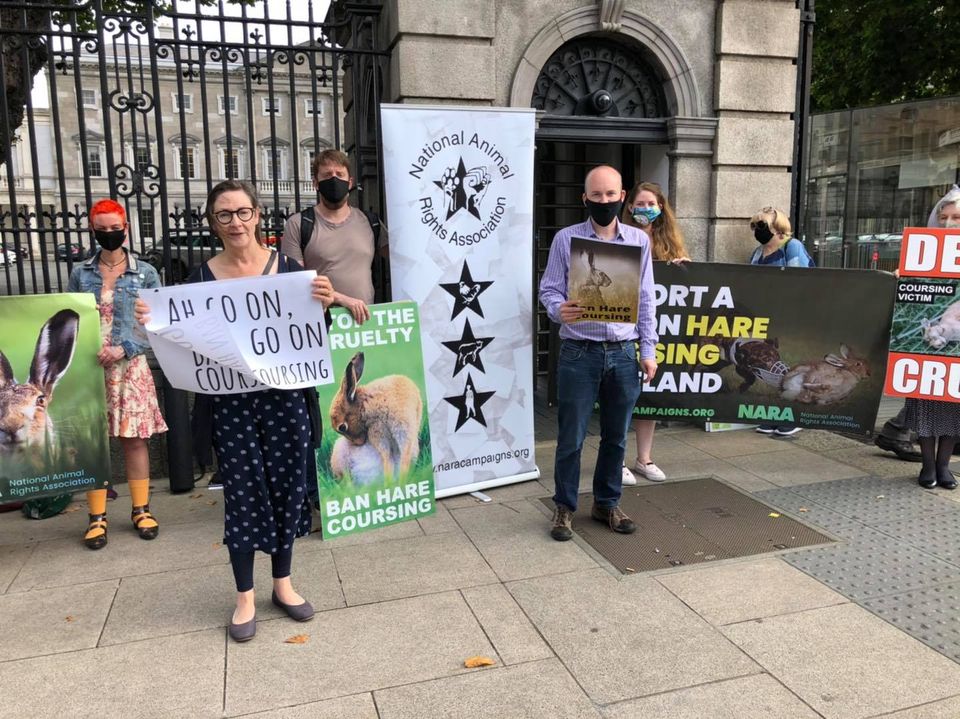 16th September 2020
Paul Murphy TD – RISE (part of Solidarity – People Before Profit) – Press statement 16/09/20
Broad coalition helps launch Paul Murphy TD's bill to ban hare coursing, which passed first stage in the Dail today

Murphy says Green Party TDs should stick to their election promises and support the bill
Photos available here: https://photos.app.goo.gl/nA1e6kj28unatoAu7 free to use
Pauline McLynn, the iconic actress who played Mrs. Doyle in Father Ted, today joined a broad coalition of animal rights groups today to launch Paul Murphy TD's bill to ban hare coursing.
The Animal Health and Welfare (Ban on Hare Coursing) Bill 2020 passed first stage in the Dail today and will now pass to second stage debate. Animal rights groups will be campaigning over the coming months to encourage all parties and independents to back the bill.
Speaking at the launch of the bill, Pauline McLynn said:
"Hare coursing is a shockingly barbarous and cruel activity and should be banned immediately. Any public representative that continues to support it is not fit to govern."
Paul Murphy RISE TD said:
"It is time to end the cruel and unusual practice of hare coursing. This is an archaic relic introduced by the British aristocracy, and has been banned across Europe. This Bill gives us a serious chance now to end hare coursing, and we will be campaigning in the months ahead to get support for this. We succeeded in the campaign to ban on wild animals in circuses and the ban on fur farming and can do it again on this.
"One of the biggest questions will be how will the Green Party vote. During the first debate on banning hare coursing in 1993, Trevor Sargent famously played a tape of a hare crying and wailing in the Dail to demonstrate what it means. The Green Party has a clear policy of opposing hare coursing. But I know that Catherine Martin told a leadership husting that if Fine Gael and Fianna Fáil were against the bill, she would vote against it "with the heaviest of hearts". Bluntly, I don't think the hares or the animal rights campaigners will care about how heavy your heart is if you vote to continue this cruel practice."
Maureen O'Sullivan – Former TD, who introduced a similar bill in the last Dail, said:
"It is incomprehensible that such a cruel activity as live hare-coursing continues in Ireland. And the licence for netting granted by a so-called Minister for Culture and Sport. Live hare-coursing is neither sport nor cultural."
Aideen Yourell – Irish Council Against Blood Sports said:
"The cruel snatching of defenceless hares from the wild to be used as live bait for greyhounds at coursing matches has no place in a civilised society. It has long since been outlawed in England, Wales, Scotland and Northern Ireland. We thank Deputy Paul Murphy for moving this Bill to ban hare coursing, and we call on our legislators in Dáil Éireann to respect the wishes of the 77% of our citizens who want hare coursing outlawed." 
Dr. Andrew Kelly – Irish Society for the Prevention of Cruelty to Animals said:
"The ISPCA is opposed to hare coursing on animal welfare and disease control grounds and fully supports Deputy Paul Murphy's Bill to prohibit this outdated and cruel pastime, which has been brought before the Dail today. Over the past four years 75 hares have been killed by greyhounds or so seriously injured that they had to be euthanized by a vet to prevent further suffering. Hares are captured from the wild using nets, handled, transported, kept in captivity for weeks and in many cases months before being chased by greyhounds. It is well known that capture and handling of wild animals causes distress. In addition the RHDV2 virus which can be lethal to hares and rabbits has been recorded in rabbits in 23 counties and hares in three counties so far. It is clear that the disease is spreading and may be spread further by capturing and moving hares across the country. Hare coursing is unnecessary, cruel, risks spreading disease and has no place in a modern and progressive Ireland."
Carah Daniel – Not For Your Entertainment said:
"Not For Your Entertainment is delighted to support this bill to ban hare coursing. Despite recent successes like bans on wild animals in circuses, and on fur farming, Ireland is still playing catch up in regard to animal rights. We are fighting for a world where profit and entertainment are not put before the rights and well being of animals. This will be a huge step forward in the struggle against animal exploitation and abuse in Ireland, and internationally."
Laura Broxson, National Animal Rights Association said:
"We are very excited to finally be one step closer to banning hare coursing in Ireland. This cruel practice does not reflect the kind, progressive Ireland which we live in today, and we are incredibly grateful to Deputy Murphy for putting forward this important and much needed bill. 
Around 5,000 hares are wild-caught every year for this horrific 'sport', and it is unacceptable for this to continue. Just because the dogs are now muzzled doesn't mean that the hares are not terrified, nor does it prevent them from being injured – or even killed. Hares are gentle, fragile animals and need to be protected, not abused. We are one of the few remaining countries in the world where this form of animal abuse is legal, so we are asking everyone to please join the campaign, and contact their TDs to make sure this bill is a success."
For more information, interview or soundbite, contact:
Cian Prendiville (press officer) 0868064801

Paul Murphy TD 0861688050
We have various campaigns running at any one time. Please feel free to look through our catalogue
NARA is a legal, grassroots level organisation that only operates within the law. Information on this website is for the purpose of legal protest and information only. It should not be used to commit any criminal acts or harassment. NARA is not affiliated to any other animal rights group. NARA has no links or involvement with the Animal Liberation Front or the Animal Rights Militia. Any articles published on this web site relating to illegal activities are posted for the sole reason of publishing news related to animal rights, and are not intended to incite or encourage similar acts.
Subscribe to our newsletter

Please feel free to contact us if you want to ask us any questions, report something or get involved.

Please feel free to contact us if you want to ask us any questions, report something or get involved.
Copyright © 2023, National Animal Rights Association.