ICC takes High Court case to continue coursing under lockdown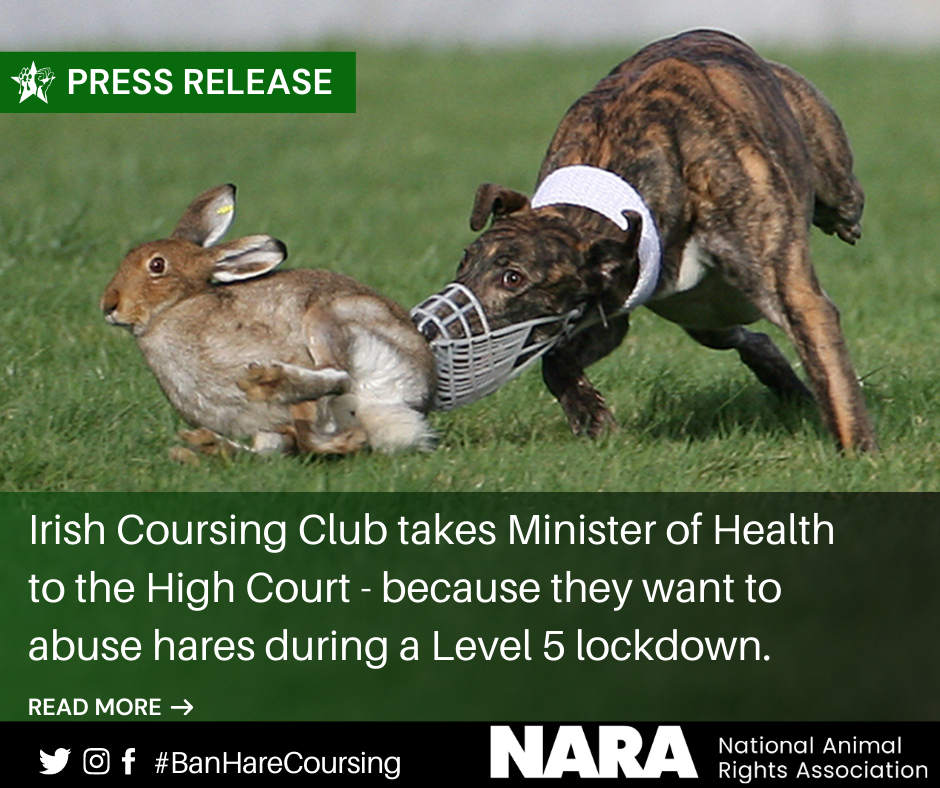 FOR IMMEDIATE RELEASE 5th January 2021.
For comment, contact National Animal Rights Association spokesperson, Laura Broxson: 086 8729 444
Irish Coursing Club takes Minister of Health to the High Court – because they want to continue abusing hares during a Level 5 lockdown.
The National Animal Rights Association, who are currently campaigning for a ban on hare coursing, take issue with the ICC's recent appearance in the High Court, in which they claim there is a 'perception of bias' by ministers regarding current lockdown restrictions. For further information, see
https://www.irishexaminer.com/news/courtandcrime/arid-40200834.html
"We are shocked and appalled that they would do this – it's pathetic, and a waste of court time." says NARA spokesperson, Laura Broxson
"During a Level 5 lockdown, when people can't even visit their own families, they are looking for an exemption so as to continue abusing defenceless animals. It's outrageous, and a clear indication of how out of touch they are with the people of Ireland."
"Their sense of entitlement during a pandemic would be enough to turn one's stomach. Hare coursing is incredibly cruel, and should be banned – not elevated to a status that outweighs national safety. We urge the Irish government not to cave in to their demands, when the case returns to court on Friday 8th January." she continued
"5,000 wild hares are caught every year for coursing in Ireland. They are chased, terrorised, trampled on, injured and even killed as a result. It's not a fitting practice, anywhere in the world, in 2021, and Ireland is falling behind by allowing it to continue."
"A recent Red C poll concluded that 77% of the people in this country would support a ban, and we have a chance of making this happen due to a bill introduced by Paul Murphy TD last September, which should go to second stage later this year. We are calling on all political parties to support the wishes of the people they represent, by voting in favour of this important bill."
"In the meantime, we hope the justice system won't pander to an outdated, cruel minority when the ICC's case concludes." she said.
We have various campaigns running at any one time. Please feel free to look through our catalogue
NARA is a legal, grassroots level organisation that only operates within the law. Information on this website is for the purpose of legal protest and information only. It should not be used to commit any criminal acts or harassment. NARA is not affiliated to any other animal rights group. NARA has no links or involvement with the Animal Liberation Front or the Animal Rights Militia. Any articles published on this web site relating to illegal activities are posted for the sole reason of publishing news related to animal rights, and are not intended to incite or encourage similar acts.
Subscribe to our newsletter

Please feel free to contact us if you want to ask us any questions, report something or get involved.

Please feel free to contact us if you want to ask us any questions, report something or get involved.
Copyright © 2023, National Animal Rights Association.