Special update on campaign to ban hare coursing!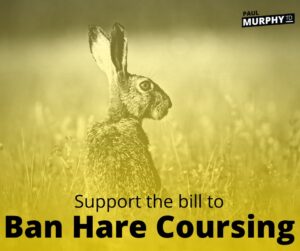 17th April 2020
WATCH VIDEO HERE
We at NARA are incredibly grateful to Paul Murphy TD for working with us and Ban Bloodsports on this issue, and are thrilled to share the exciting news that he just submitted a new bill to ban hare coursing to the Parliamentary Legal adviser. This is the first step to getting this debated later on in the year, when the current health crisis has passed.
As with our campaign to ban fur farming, we will be working non-stop on this campaign until a ban on hare coursing is achieved. Although we cannot organise protests or campaign tours of the country at the moment, we will be launching daily 'Action Alerts' with sample letters – and we will need your help with getting every TD on board with supporting this bill!
For us, today officially marks the beginning of the end of this cruel practice and we can't wait to finally be able to say that hare coursing has been banned in Ireland.
We will need everyone to help with this to make the campaign a success – please join us in our efforts!
We have various campaigns running at any one time. Please feel free to look through our catalogue
NARA is a legal, grassroots level organisation that only operates within the law. Information on this website is for the purpose of legal protest and information only. It should not be used to commit any criminal acts or harassment. NARA is not affiliated to any other animal rights group. NARA has no links or involvement with the Animal Liberation Front or the Animal Rights Militia. Any articles published on this web site relating to illegal activities are posted for the sole reason of publishing news related to animal rights, and are not intended to incite or encourage similar acts.
Subscribe to our newsletter

Please feel free to contact us if you want to ask us any questions, report something or get involved.

Please feel free to contact us if you want to ask us any questions, report something or get involved.
Copyright © 2023, National Animal Rights Association.